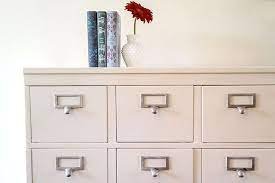 How To Paint A File Cabinet
Good day, my do-it-yourself people, today I am going to talk about and also walk you through how you can paint a file cabinet. You have a file cabinet, maybe its paint is wearing off and you're looking to give it a more presentable and aesthetic look and feel and you don't want to spend on hiring someone to do it, but you're not quite sure how to go about it, well this post is also for you. Or maybe your just looking to give the office a new look, after all, beautiful things bring about more productivity (my personal quote), this post is definitely for you too, so get your tools ready and buckle up and let's take you through it. In this article I am going to provide you with the information to get the job done successfully and efficiently.
Before diving into it let's first list out some of the equipment we might need. Firstly, we will need the paint and of course, paint brush or spray paint if that's what you want to use which will be used to apply the pain. We are also going to need some old cloth or fabric to cover the office and its important part in order to avoid the paint from getting on them. Also, ensure proper ventilation and sandpaper would also be needed, I'll tell you what's going to be used for later. Finally, you need like $5,000, don't mind me am just kidding that's all you need. Now let's dive in.
PREPARING YOUR AREA FOR PAINTING
The first and of course important step is to use an old fabric or cloth to cover your office equipment, in order to prevent the paint from getting to your computer, desk, documents or your furniture. As you're laying down the fabric and covering important equipment, also make sure that you open up the windows in order to get proper ventilation, this is mainly if you're using aerosol-based spray paint. You might so need to wear gloves and a respiratory mask. Spray paint is preferred but most of them are aerosol-based so you're going to need proper ventilation in order to protect your lungs and prevent them from getting damaged.
PREPARING THE FILE CABINET
After preparing the area next up is preparing the file cabinet for new paint. First off you start by removing all the drawers, handles, and every other type of equipment that might be attached to the file cabinet and set them aside. If there is any hardware or equipment which can't be removed, don't panic, if you still have some of your old fabric, just cover up the equipment with it to avoid the paint from getting on them. Also, if you're using a metal cabinet which is most likely, it is better if you buy spray paint, and make sure it is rust-resistant. After you have removed the drawers next up is thoroughly cleaning the cabinet and also drying them. Make sure you clean it thoroughly as every step is important in order to get the job done perfectly. Next up, still on preparing the filling cabinet is the get sandpaper (this is where you are going to need it), you're going to use it in order to smooth out the surface and also remove rust spot. And it also ensures that previous paint coating is also removed. A sanded surface provides a very good level of cohesion (it forms a united whole) with the new paint coating. Using an abrasive pad is good for molded profiles.
USING PRIMER
Now that we are done preparing the file cabinet by doing the cleaning and the rest. A primer is needed so that the new paint can stick to the metal therefore it is applied to surfaces if it contains several bare metal spots, so you might not need a primer. You also need to stick to the right primer which suits your surface. It can be applied before painting is done or you can choose a paint which already contains a primer mixed in it. Fast-drying primers are better and more preferred as they save time and so streamline the process of application of subsequent coats. For those using a separate primer, it is best to use a spray paint primer, because the manual coating can leave brush marks in the surface, and we don't want that. Before applying primers you can also treat rust spots with rust primers too. For those of you who might want to skip the primer step, know that the primer also helps paint to stick better and stay in good shape for years to come, and prevents rust spots from coming back at later times. Notwithstanding, make sure to read the instructions before using, and if it isn't a fast-drying primer be sure to wait the amount of time needed for the primer to dry, as some primers may take a long time to dry.
PAINTING
Before painting, you must make sure you choose the appropriate paint for the metal filling cabinet and select the best which are available. And as you already know spray paint is preferable to brush paint in order to prevent brush marks. When brushing make sure to use light sprays evenly on the whole surface of the metal. Three or six coats of paint are good. Paint must also be applied in thin layers so that surface smoothness is ensured. You must also endeavor to let each coat dry for the proper amount of time in order to get a clean look in the end. So in essence thin and even coats with a minimum of two to three coats. Once you are done painting the file cabinet you can take the drawers and paint them too if you would like to. Also another tip, if you are not really sure about how to produce smooth and even finish, start from the back of the metal file cabinet, so even if you make a few mistakes no one would really see them. And for using spray paint, it's pretty easy to use, just depress the trigger of the spray can and spray about 3 inches of air until the spray reaches the surface of the metal. It is preferred to use the on/off action method when using spray paint, which involves on/off action accompanied by the left to right and right to left movement of hands.
Once all that is done just shift back and gaze at your once old and rusted file cabinet as it shines in its new radiant color. Am pretty sure anyone who walks into your office now would be really happy to see such a neat cabinet. Now you can remove your equipment, make sure the drawers dry and then put them back in. Arrange all your hardware in a neat position and clear up the fabric used to cover the office area to avoid stains.
And with that we have come to the end of this article, please make sure to read other articles, thank you.
AD!
Click here to Get the Highest Paying
Work from Home Jobs in USA
======================
The content on this site is posted with good intentions. If you own this content & believe your copyright was violated or infringed, make sure you contact us at [easyinfoblog@gmail.com] to file a complaint and actions will be taken immediately.
Author: Simon Robert
EasyInfoBlog is a multi-author blog. We have experts and professionals in various fields who share their ideas and expert knowledge to help you with your daily information needs. Thanks for reading!