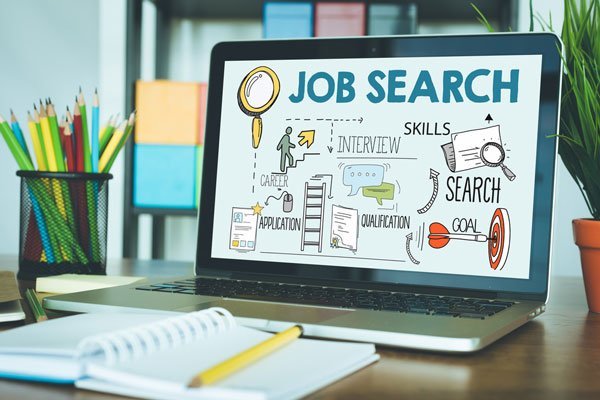 11 Best Job Search Websites 2021
The U.S. economy has been in a funk for quite some time now; unemployment rates have been at an all-time low but there is a silver lining to the dark cloud that looms over our job market.
Businesses have shifted away from the pen & paper job application format to the ease of online job postings. There are many excellent job search websites for online job seekers which is why we've condensed the 'best of' and wanted to share them, with you, in this article.
Indeed Job Search Engine The Top 10 Best Job Search Websites
Indeed.com is a job search engine that aims to keep the process simple and clean from the interface to the job listings. You're given the basic options of "what" and "where" to start your search but there are many other built in features that let you drill down the specifics of your job search.
Adding a resume requires an account but the built in tools makes it extremely simple. Indeed has a similar feel that you would find with Google or Bing with built in features to set the salary, title, company, location, job type, and many other filters to find the job. There are also stories of success from Indeed.com users that will surely motivate your search.
Monster Job Board The Top 10 Best Job Search Websites
Monster.com is the most popular job search websites on the web today. There are millions of job postings throughout the site and a huge collection of built in tools to aid your online job hunt such as a resume uploader, search features for finding the right job for you, and a budding community that share their tips and tricks for finding your next career.
Additionally, Monster.com has a list of services that improve your job hunting success such as a resume builder, career tools, Q&A's, forums, advice articles, and so much more. In terms of where to start in your online job search – we recommend Monster.com above all else.
CareerBuilder Job Search The Top 10 Best Job Search Websites
CareerBuilder.com can be considered the "top dog" when it comes to online search websites; it's been around since 1995 and continues to innovate the job search industry, online. Thousands of websites use CareerBuilder as their source for hiring employees; major brands and businesses are represented on the job boards which can easily be found through keywords, location, industry, and other advanced search features.
Like Monster.com, CareerBuilder has a wealth of great information that will aid you in landing your next job or career. There is a very informational blog with regular tips and tricks, information on gaining a higher education and how it applies for your career, salary calculators, industry specific job boards, and so much more. I would rank CareerBuilder as your second choice in finding jobs online.
Craigslist Classifieds The Top 10 Best Job Search Websites
Believe it or not, Craigslist is one of the largest job portals on the web; it's not just a tool for selling your old stuff. Craigslist is represented in nearly every major city but extends to smaller towns within the surrounding area. Using the website, you can find anything from writing jobs to engineering careers with the right search criteria. Be warned, however, Craigslist does attract scammers so do your best at weeding out the good from the bad when you're searching for jobs on the website.
Additionally, there are tools such as Craigspal that can be used to search the entire Craigslist database which is particularly helpful when you're trying to relocate or find jobs that are out of your general area.
Simply Hired The Top 10 Best Job Search Websites
SimplyHired.com has identical features that you'd find on Indeed.com which is why I place it at number five on our list. The basics include a job search engine that looks similar to most search engines, a location to submit and upload your resume (with additional support for LinkedIn profiles), integration of Facebook to find jobs at your friends companies, and search filters for the specifics.
SimplyHired.com acts an a middleman – the jobs you see listed are posted on smaller job portals which begs the question of why go through an extra step in the process of finding a job but this search engine is very helpful because it's able to pick up and display many job listings that aren't readily available unless you know where they're posted.
440" crossorigin="anonymous">
Job Site The Top 10 Best Job Search Websites
Job.com aims to dethrone Monster.com because it has the same great features but some of them redirect you to third party sources which can cause confusion and detract you from staying focused. Like other job boards, you sign up for an account, submit your resume, and begin searching for jobs. Job.com works as a middle man, like SimplyHired, but with a bigger website although there are some listings that are specific to the board.
Overall, Job.com does a great job at helping people find their next career with the help of career tools like a resume builder, career test, advice, news, degrees, and other resources. If you're having trouble finding your specific job after doing searches on the top three than take your time at Job.com and you may find a few that haven't been listed elsewhere.
USAJobs The Top 10 Best Job Search Websites
USAJobs.gov is the most trustworthy site for finding government jobs – especially since it's on a .gov domain. There are many scams out there promising these jobs so USAJobs.gov is the better solution for this sector. You won't find a huge list of available careers readily available compared to the millions that are listed on the other search engines but these are lucrative and high paying – you're working for the government … after all.
The particular segment, of the site, that's especially helpful is the ability to gain additional help if you are a veteran, student, senior, or a person with disabilities. There isn't a great deal of additional resources to aid you in finding and landing the jobs listed on the site but that's to be expected since this is highly professional. For official government jobs, look no further.
Dice The Top 10 Best Job Search Websites
As a change from the everyday job hunt – Dice.com offers a different approach by focusing specifically on tech jobs. I would avoid this job search website if you aren't in a technical field because you won't find the everyday items here – no no, in fact, you're looking at high end programming, marketing, directors, project managers, and more. However, if you are in the tech industry than this is your job portal for you.
Dice.com has the usual features you'd expect like advanced search features, advice blog, and accounts but what makes the site particularly great is that you can browse by company profile and learn more about the business before you send out the application; this goes great when you're trying to create cover letters and resumes aimed directly at the type of career of your choice.
LinkedIn The Top 10 Best Job Search Websites
LinkedIn.com, if you haven't heard by now, is quickly becoming the biggest professional job portal on the web; it's already the largest social networking website for business-types but the introduction of the networking aspect, setting a resume, joining groups, and connecting is where it really throws its weight around for finding jobs.
In careers, networking is everything. Every person you've encountered, past employee you've worked with, every boss you've had, and associate you've employed – all of them can generally be found on LinkedIn. It's a recommendation engine – in many ways. People will find your profile, see what you've done, your network, and how you stay active – it often leads to job offers.
Outside of the social aspect, you can use the network to hunt down new careers because it gives you direct access to the decision makers. You no longer need to specifically send in a resume to HR – you can talk to the owner of the company if they have time to spare. This, alone, is reason to add LinkedIn to your professional network.
USAJobs24 The Top 10 Best Job Search Websites
USAJobs24.com is a job search website that acts similar to some of the ones previously mentioned like SimplyHired.com. The main draw of USAJobs24.com is that it's been around for some time, has an excellent interface and search feature that doesn't bog you down in worthless information, and comes with additional services to help get found via talent sourcing and recruitment companies.
USAJobs24.com is especially great for finding high-volume hiring jobs with low educational requirements, part-time work; the jobs that may not necessarily be your next career but will certainly hold you over during downtimes or blossom into something bigger if you enjoy the company. USAJobs24.com has profiles that streamline the process of landing the job vs. needing to regularly submit the same information over and over again. From a personal perspective – this is the job search that goes extremely well for younger adults and those that would like to pick up some extra work without slaving away at 40+ hours a week.
If you're frustrated by the many job boards that don't have enough different tech job categories (technologies), Remote Tech Jobs can help. With thousands of jobs in 37 tech job categories, you're bound to find jobs you're interested in or qualified for.
You can also subscribe to any category(s) and be notified when new jobs are posted.
On Remote Tech Jobs all job postings are 30 days old at most, so no need to scroll through many inactive jobs.
Bonus: Google Searches
Google Searching The Top 10 Best Job Search Websites
Job search websites are working with best intentions to aid you in your online job search but remember that there are millions of jobs that are never publically listed; the only way you can find these available jobs is to go out of your way to find job listings, give a call, and land an interview.
There are many "Google Search Hacks" that let you pin-point your Google searches which can be used, in your case, to find job postings that aren't listed on the job search websites.
When doing Google searches, for jobs, try a few of these:
[Job Title] + "Your City, State"
[Career] + "Hiring"
Site:.com "job title" + "jobs"
Try a combination of "search item", "+'s", and "-'s" in your Google search to add different criteria and refine your search to your area, career, and so you can find job posting pages on individual websites that may not have listed in job search websites.
Conclusion
In this post, you've discovered the best job search websites; each provides a different degree of helpful tools and resources for getting started in your online job seeking.
Our suggestion is to choose one from the list and work with the website on a daily basis – sending out resumes – and keeping at it even when the times are tough.
Over time, you'll finally land that career you deserve; use these job search websites and you'll be one step closer to your goal.


Author: Simon Robert
EasyInfoBlog is a multi-author blog. We have experts and professionals in various fields who share their ideas and expert knowledge to help you with your daily information needs. Thanks for reading!