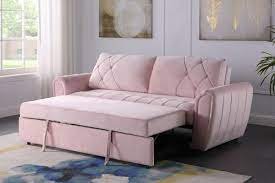 8 tips to make a sofa bed more comfortable
Are you inviting guests over for a sleepover? or is your sofa bed not comfortable enough when you sleep on it?. Do you wake up feeling cranky with a little bit of backache because you felt the rod of the sofa on your back all through the night?. If you answered "Yes" to any of these questions, then this blog post is for you.
If you read this blog post till the end, I will be giving you cool tips on how to make your sofa bed more comfortable. So that when next your teenage daughter is having her friends over for a sleepover, or you are having guests over and the bedrooms in your apartment aren't enough; you'd have figured out how to keep them comfortable throughout the night. Because no one likes waking up feeling cranky instead of feeling well-rested — me included. And sleeping on your sofa bed can be quite similar to the 'Princess and the pea' situation; whereby your pea is the bar of the sofa poking you through the mattress.
So grab your cup of coffee, or whatever you drink cus this post will cover all you need to know and I'll advise you to pay close attention when reading this. If possible, take notes. Don't worry, It won't be too long and boring— just very informative.
1. Get a new sofa bed mattress instead of a mattress topper.
Yes, I know that a lot of people prefer to get a mattress topper instead of a new sofa bed mattress. But I would strongly advise you to get a new sofa bed mattress and a thick one this time around. You may be wondering why I would be suggesting this instead of that.
Well, ….. read on to find out.
My reasons for this suggestion will offer a myriad of benefits that will improve your sofa bed nightlife.
One of them is: You get to spend only once!.
For instance, let's say you get a mattress topper instead of a new sofa bed mattress, the added thickness of the sofa topper may prevent you from closing your sofa bed. This means that you have to store the topper elsewhere when you are not using it. Who wants extra things like a topper taking up space in their apartment?—No one. But that's not much of a problem to some people.
The main reason why I suggest getting a new sofa bed mattress instead of a mattress topper is that, if the underlying mattress is worn out or poorly constructed, a mattress topper will barely do so much to help. And you would end up investing in a new sofa bed mattress instead.
Hybrid, pocket coil, and memory foam mattress options are some of the best sleeper sofa mattresses in the market with good design.
Mattresses with a thickness of 4 – 5 inches are fair choices for a sleeper sofa. Or, you can choose those queen-size mattresses that are at least 7 – 10 inches thick.
And remember, the main purpose of this blog post is to suggest the best ways you can sleep comfortably on your sofa bed at night so that it wouldn't affect the use of your sofa in the morning as a means for people to sit down.
2. Use a sofa mattress topper.
My number one suggests that you should get a new sofa bed mattress instead of a mattress topper because it saves cost and automatically solves the problem of discomfort, but I remembered that not everyone reading this blog post might have the coin to spend on a new sofa bed mattress, so I will be carrying them along by suggesting they use a mattress topper.
It could only be a temporary way to solve your problem, but it's still away, isn't it?.
Adding a mattress topper can improve your comfort at night. Your sofa mattress topper can be made from microfiber, foam, cotton, or gel-infused foam. Whatever you finally decide to buy, make sure you choose a mattress topper that is at least 2″ thick.
Cool tip- Secure both the mattress topper and the mattress under the same sheet, to avoid slippage at night. You can also make use of mattress clips to secure it properly to the mattress.
3. Use a good duvet.
Just in case you can not afford a mattress topper, a good replacement is duvets. You can use the duvets at home as a replacement since they are thick and you would have extra support for your back when you place them on the sofa bed. Then you can get an extra duvet or blanket to use in covering yourself. This would compensate for a thin sofa bed mattress.
4. Clean out & flip your sofa bed consistently after every visit.
If you desire to be comfortable at night when sleeping on your sofa bed, I'd suggest you clean out your sofa. There's a slight chance that the dirt, dust, lost cents, the smell from spilled coffee, and crumbs of cookies are the reason why you are uncomfortable at night.
You can use your vacuum cleaner and stain remover, then you can spray it with a fabric refresher for a nice scent.
To deep clean it, you must unfold your sofa bed, and remove your bedsheets.
If you can't do this alone, call a friend or kind neighbor to assist you. The day job of the sleeper sofa is a couch so there must be dirt lurking in the crevices between the cushions, so be sure to thoroughly vacuum every nook and cranny of the sofa bed mattress.
Don't forget to flip it over to remove the butt/body imprints left by guests on the sofa. After all, it was a couch in the morning.
If you do this, and continuously ensure that you keep it clean, I am sure that you'd sleep more comfortably at night on your sofa bed.
440" crossorigin="anonymous">
5. Use fresh sheets all the time.
This always helps no matter where you plan to sleep. I remember when I had restless bedtime for a week straight, and I was seriously wondering what the problem could be and I couldn't figure it out. My sister noticed that I was waking up more grumpy than usual and asked if everything was okay with me. I said I was fine but was having a hard time sleeping peacefully at night. After my response, she asked me " when did you last change your sheets?".
I responded, saying, "it's been a week now since I changed it".
Nodding, she said, "It's the sheets".
I just shrugged in response and changed it that night to a clean and fresh one, and guess what? I slept like a baby.
I know you may be wondering what this story has to do with this, but most of the time, a lot of people don't know that your sheets can disrupt your sleep at night.
So whether you plan on sleeping in your bed or on a sofa bed mattress, don't forget to launder your sheets regularly and use new sheets all the time.
6. Work on repairs.
Once you start hearing that creaking sound when you sit down on your sofa or move around on your sofa bed, it means it's time for you to make repairs or buy a new sofa.
A lot of people overlook these signs until it's too late to repair them. And yes I know you know the signs I am talking about. That creaking sound you hear, that stained or frayed sofa bed upholstery, that awful back support that gives you a stiff spine when you wake up, or is it the rusted build-ups in the joint which make it hard to stretch out the frame out of the sofa bed that you've been ignoring?. Let's not even talk about the itchy skin when you wake up.
All these are the signs that you need to fix your sofa bed. Don't wait till the problems are much before you start trying to fix them. Fix it now. Remember, procrastination kills the cat. (Lol, I'm just kidding), I know it is curiosity.
7. Improve your bed-making skills.
A lot of us don't know how to properly make our beds. And this could be a reason why you don't sleep comfortably at night. I always loved sleeping on my roommate's bed in my former dorm room, because she was an excellent bedmaker with mad bed-making skills. I usually teased her by telling her that she could work at a hotel and make beds to earn money when she goes broke.
Stop putting in half-baked efforts because it's a half sofa and half bed. Straighten out the bedclothes as you would on a plush foam mattress, and have your guests thank you later.
8. Use essential oils and scented candles.
Are you a scented candle fan like me?. Well even if you aren't, you can always use essential oils instead. Have you ever heard of Aromatherapy?. Do you know that when you infuse the air with essential oils like lavender, vanilla, sandalwood, or any oil that you like, you can sleep better at night?.
Essential oils pleasant smells can be used as a stress reducer and will make it easier for your guests to sleep better and faster.
Conclusion
Other ways that you can improve your comfort at night on the sofa bed are making a plywood base, adding weighted blankets, or using a couple of pillows.
When next you are hosting friends from out of town, or your teenage daughter is having a sleepover, or you are going over to your grandmother's and you would be sleeping on the sofa bed, you don't have to be worried. Just incorporate these tips and be rest assured that you will have a wonderful night's rest on the sofa bed.
Author: Simon Robert
EasyInfoBlog is a multi-author blog. We have experts and professionals in various fields who share their ideas and expert knowledge to help you with your daily information needs. Thanks for reading!