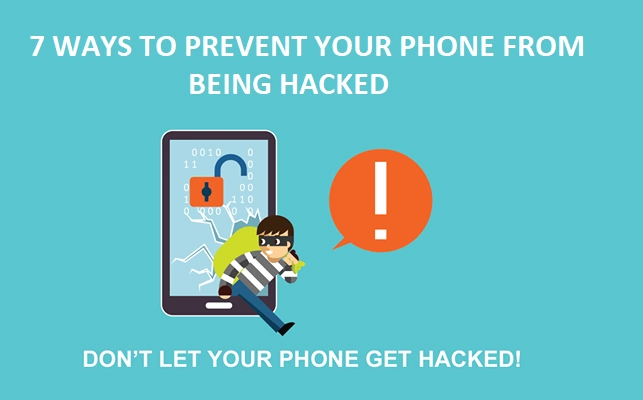 7 Ways to Prevent Your Phone From Hackers
You will agree with me that phones can be hacked remotely and private information stolen. Yes, this is true! Bad people can use technology negatively to manipulate and gain unauthorized access to your phone to steal your valuable information such as credit card details, login details, and more. They can also intercept your calls, access your voicemail messages
We all are so pleased with the advent of technology that has brought the world on our fingertips. But with all the benefits, there is always a negative side of the picture. Likewise, just as the technology has been so beneficial for the users, it is equally helpful for the criminals class of the society. Ultimately leading to cybercrime, mobile phone hacking, and so on.
Hacking is one of the major forms of cybercrime that is increasing day by day on a rapid pace. From a normal user to a giant establishment, top to bottom, everyone is afraid of being exposed to hackers. Consequently, we must check on the activities we carry out on our smartphones and be very particular about the security of the device.
Phone hacking is real. Recently, the Brazilian President, Bolsonaro complained his phones were hacked amid fallout over leaked chats. But these things can be prevented, and that's what this article is all about. In this post, I will show you how to make sure your phone isn't hacked
As we keep a keen eye on the security of our apartments, we must also ensure to secure our devices. Obviously, it's not easy as it may seem but some efforts would definitely make the difference. Instead of regretting later we must initiate now as a precaution is better than cure.
Now, let's have a look at the very basic precautionary measures that you can take to avoid your mobile phones from being hacked.
1. Keep Passwords
Passwords act as a gateway in your phone. It is always essential to have a strong password on the phone. You may also have a password on other apps wherever possible.
Furthermore, avoid using your name, date of birth, etc. as a password because they are easy to be guessed by others. Make it complex by using different upper and lower case alphabets, numbers, and/or symbols.
Besides, the passwords are being more simplified these days with the introduction of the fingerprint scanner and face ID that makes your phone more secure and safe.
2. Use Different Passwords
It is further suggested to keep all the passwords different from each other like a separate password for email accounts, social media accounts, etc.
If in the worst case, any one of your account's security is hurt, the chances of other accounts being hacked are quite less. It is understandable that you might not remember all of them at times, and for that, you may note it down for your ease.
3. Download Anti Virus Software
After passwords, anti-viruses act as an entryway to access the apps and data on your device. You must have an anti-virus installed on your phone all the time.
It will not only save your phone from being hacked by the hackers but also from getting attacked by the bug that might have floated in your phone by the hackers or in any way.
There are trusted applications available on both App Store and Play Store like Avast, Norton, McAfee, etc. You can also search on the app to protect my phone from hackers, and you will see a whole lot of them online.
4. Update your Phone Timely
You may find updating operating system irrelevant concerning hackers and security but updating the operating system is another necessary step towards the security of your phone.
The outdated versions are more vulnerable to the attack of hackers hence troubling with the defense system of the smartphone. Since the new updates come with improved performance and bug fixes, therefore, you must update your phone as soon as you get the notification for the new updates.
5. Don't Use Public WiFis
Public WiFis or open connections are one of the very easiest targets of hackers. If you use them, you are prone to get affected by hackers in most of the cases. Since these connections don't have passwords at all or in some cases even if they have passwords, their security is not as high as they have to be.
Moreover, hackers are fully equipped and smart enough to get into these connections and track the users' credentials and data. To play secure use your packet data in such scenarios.
You can also have VPNs to have secure access to open connections as VPN will encode your activity and reduce the vulnerability of public WiFis to a great extent.
440" crossorigin="anonymous">
6. Use Trusted Sources Only
Sometimes some apps seem so tempting to you and compel you to download them. But never download them. Such apps might be a trap for you by hackers.
Hackers, through their expertise and systems, enter the apps and play with their codings in such a playful manner that they are hardly caught.
When the users download these affected apps, the bugs inserted by the hackers automatically dive into your phones and eventually subjecting your mobile phone to the hacker's target. So, only download apps from the App Store or Play Store as well as avoid opening the links that keep on popping up on your screens continuously.
7. Two Factor Authentication
You all might be aware of the two-factor authentication by now. For those who are not aware of it, the two-factor authentication is the new security tactic used by many applications and webs to secure the accounts of the users.
All you need to do is first of all set a strong password and secondly enter your email or your cell number to get the verification code sent to you by the app's help center to verify your identity. This will save your accounts from the hackers.
We hope that these guidelines would be helpful for you to secure your phones from the vulnerabilities of hacking. Don't wait anymore and just dig into these very easy and instant steps now.
Read Also: How to Improve eCommerce Security and Protect Your Store from Attack
Author: Simon Robert
EasyInfoBlog is a multi-author blog. We have experts and professionals in various fields who share their ideas and expert knowledge to help you with your daily information needs. Thanks for reading!