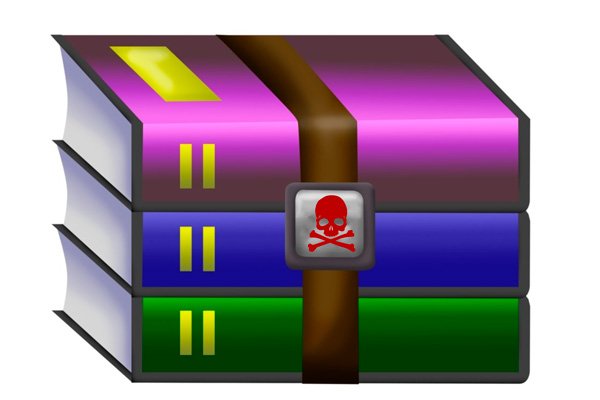 How To Get Rid Of Winrar Expired Notification
Today we are going to be talking about how to get rid of the WinRAR expired notification, which I'm sure everybody who has been using WinRAR for more than 40 days is experiencing, although most people just ignore this, but when you're doing a lot of work which requires a lot of extraction it might become a bit of an annoyance.
WinRAR is a pretty popular software, in fact, when it comes to extraction of files it is number one. I remember when I first started using a PC, and being a child back then all I thought about was games. Although I usually them in CDs formats. Sometimes the game won't work and I would have to download stuff which was compressed had a RAR format or even a ZIP format, that was when I first found out about WinRAR. Over the years I found out that bug files including videos are compressed and shrunk down and given the extension ZIP, and although there are many software out there WinRAR has been the most outstanding and the most popular of the lot.
Decompressing and compressing of files have gone a long way and now you can even use your Android phone to decompress compressed files with tools such as B1Archiver or Zarchiver. But that is beside the point. Anyone that has been using WinRAR and is conversant with the software will know that after using it for 40 days your trial period expires you would be required to purchase the license key, although you won't necessarily be locked out from using the software but you start getting this annoying pop up on start up telling you to purchase the license or remove the software from your computer. In this article I'll b showing you different solutions to the 'WinRAR trial expired pop-up notification, now let's dive in.
IGNORING/BUYI NG WINRAR
Although this is one of the many solutions I'll be providing, it's probably one of the most straightforward ones. After your trial period expires you can just decide to keep ignoring the pop-up messages telling you to buy the license key, after all that's what most people do. But if it's really bugging you, you can decide to just cave in and buy it. I remember reading a post once about a guy who decided to buy the WinRAR license key. His story was that he just wanted and liked to keep things legal and also just wanted to see what it was going to be like. So after the purchase, he decided to ask the company through mail how much of the license key and CD do they actually sell. To my surprise WinRAR which has been made a meme a lot of times due to its never-ending trail periods actually sells a lot of license keys every day and even ships about 3,000 copies of the CD all over the world yearly! Yes, every single year! So buying it isn't a bad idea it is a good one and a safe one at that. So to buy your WinRAR license key, after your trial period expires (Oh and also if you buy it before the trial period expires you get a 30% discount on the retail price) and you start getting the pop up just click on the buy online button. This will open your browser (default) and will automatically navigate you to the purchase page. Now you get to customize your order by choosing if you want to purchase WinRAR maintenance or if you want a physical CD. After which you are meant to fill in the required information and proceed with the payment method you prefer. After the purchase of the license followed the instructions which you received in order to remove the WinRAR trial expired pop-up. If you ordered a physical CD you would have to wait for it to be delivered to you, it can take a couple of days or weeks depending on different factors.
USING THE CONTEXT MENU
   This method teaches you how to extract a ZIP file without using WinRAR, although I know it doesn't say how to get rid of the disturbing pop-up but it's like a follow-up if ignoring it or buying the license isn't an option. All major platforms such as Android, IOS, Windows, and Mac usually have a built-in file browsing app or software which allows extracting ZIP files without having to download any other extra app or software. I will be showing you how to extract on Mac, Windows, and Android. For windows, find the ZIP file in the location which it is stored, then right-click on it, after which it displays a menu for you. Navigate to the extract files button, after which a menu will appear for you to browse where you will extract the file, then click on extract and the files will be extracted. As for Mac, open the finder navigate to the ZIP file, double click on the ZIP file. This will prompt the extraction to begin. Then open the new folder for the extracted file. For Android open my files app or files by Google play, browse for the zip files location and open it, navigate to the zip file, tap on the ZIP file, and tap on the extract button. Now tap on the newly created folder to view the ZIP file.
USING WINZIP (OTHER SOURCES)
   WinZip, am sure you have heard of it, it is the biggest extraction software after WinRAR. It is a trialware file archiver and a compressor which is available for different platforms such as Windows, Android, IOS, and Mac. If you're fed up with the constant reminder of WinRAR perhaps you might consider switching over to WinZip. It supports many popular file formats such as ZIP, RAR, ISO, 7Z, TAR, and much more. You can also compress files such as PDFs, videos, and even images. It also has many other great features such as file splitting, PDF to Word converter, file manager feature, file backup, and file-sharing support, and even cloud storage. Although it isn't the only extraction software out there we also have Ashampoo Zip, B1 free Archiver and even 7-zip for PC. Mixplorer Silver, B1 Archiver and even Zarchiver for Android. We also have iZip and ZIP viewer for IOS. The Mac isn't left out as there is also the Unarchiver, UnRa r x, Zipey, and even many more. And the best part is that most if not all are free.
WRAPPING THINGS UP
   If all of these still don't satisfy you, you can decide to download the cracked version of WinRAR which offers you WinRAR's features for free and no pop-up to disturb. But note that I don't recommend downloading cracked software, especially when you're not sure the website is even safe. So download at your own risk.
With that we have come to end of another amazing article, don't forget to check this website for other interesting and engaging topics in areas such as entertainment, politics, religion, gaming, and various tutorials in various areas. So, thank you so much again for your time and please I can't overemphasize checking out some of the other wonderful topics for you to read, thank you.
Author: Simon Robert
EasyInfoBlog is a multi-author blog. We have experts and professionals in various fields who share their ideas and expert knowledge to help you with your daily information needs. Thanks for reading!