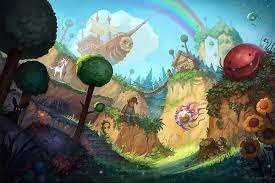 How to Give Terraria More Memory
For my fellow game lovers, Terraria is a beautiful game of adventure. Terraria have been able to stand out because of its numerous weapons, calamities and challenges, simply say, the game has been able to make a lot of people happy, but there is a major issue of crashing and interruptions that always make the game a little bit frustrating and this is largely due to memory deficiency. I am going to drop different approaches to solve the memory problem. The first method is a step-by-step way that can help solve the issue and prevent your game from crashing.
Through Task Manager
The first thing to do is to launch the game and go to the task manager. This will lead you to an app where you can search for the name of the game. When you see the game, you would use your right-click button to open it, select the goto details from the provided menu. This would display the detail tab of the app. At this point, all you need to do is select the name of the game and a new menu will pop up. You would then select a set priority from the displayed menu and a submenu would come up again. You would pick the high option from the displayed sub-menu. These steps can go a long way to solve your memory problems and prevent your game from interrupting or crashing.
When you don't manage your system well, it would lead to frequent crashes and this will make the game frustrating and uninteresting. Understanding the memories and what to do with them is important.
Increase from 32bit-64bit
However, in case the first method doesn't work, you can try another way by increasing the memory. It involves increasing the bit version of the game.
Normally, the game doesn't require a lot of memory to run, it is a 2D sandbox game similar to the old platformers games in the '90s. Even when you have a lot of things going on at the same time, a big base with badass ammunitions, fighting off an attack with friends, and doing other things, it should still run on almost any memory but with a lot of mods installed to add more quality to your experience, the game might require more memory to continue running. The game can easily crash when it's being run on too many mods. With mods like Dragon ball terraria and Legend of Zelda, just to mention a few, your game can easily crash. The designer didn't make the game run on too many mods, that's why your game can crash in between adventures. Hence, the reason for more RAM allocation. Unlike many games, the memory allocation in terraria is not as straightforward. This article would help us understand the importance of allocating memories to terraria and how to go about it.
The game has a mod manager that can make things a lot easier for you. There is a tModLoader that can be downloaded from the game's Steam store. If you have Terraria on Steam, you will be able to download the tModLoader for free. After that, there is still a 64-bit mod you would need to download to run along with the tModLoader.
How do we make the game use more RAM?
Terraria has a memory that would max out at 4GB, the implication of this is that the game would crash if you exceed the 4GB original memory except you increase it. It should be noted that this game is a 32-bit game, which is why the memory is at 4GB, hence, your first line of action to increase the memory is by increasing it to a 64-bit game version. This would allow you to use all the mods you want on the game without running a risk of a crash.
The simple way to do this involves some installations and folder creation to add to your Terraria folder. You would go to the forum page and download a 64-bit tModLoader. Select the version that's appropriate for your Terraria game and install it. You would have to unzip the file and select a destination to put the folder.
After doing that, you can look through your installed Steam folder in your tModLoader. If you are finding it difficult to find, you should right click on the tModLoader in your Steam library, then select manage and choose browse local files. This will take you to your tModLoader folder. Once you've done this, move all the files on the unzipped file of 64-but tModLoader you downloaded, and paste inside. It will bring some options for you, choose to replace all files, then finish the copying.
After doing that, you can test if it is working by opening the tModLoader and launching the Terraria from there. This would lead you to a command prompt and you need to wait for everything to load. Once this is successful, the game would come up and start running your mis, at the left Conner of the game, you would see that it is running on 64-bit.
Like I said earlier, increasing it from 32 to 64-bit is just the basis to add as much memory as possible. This would allow you to run as many modes as possible also without having a game crash. The game is a lot interesting with the addition of mods, especially if you've finished the standard version. With the numerous mods being created every day, the best way to enjoy the game is to add more memory. Another benefit is that you would be able to host the server with your friends. The added memory would allow you to do that which is why it is very important to change your Terraria to a 64-bit version. You have to constantly check for updates on the tModLoader if ever the game is updated. This will help to prevent crash issues on the tModLoader.
In Conclusion
Low memory is the major problem of this game and if you love to play it, it is only right you increase the memory. Try to manage the soft well of the game and use a device that is compatible with the game. Try not to panic, just follow the instructions and the game experience would be alright.
Author: Simon Robert
EasyInfoBlog is a multi-author blog. We have experts and professionals in various fields who share their ideas and expert knowledge to help you with your daily information needs. Thanks for reading!