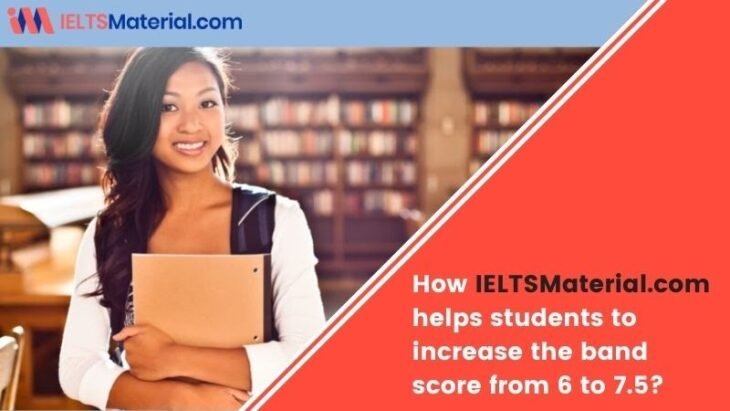 How IELTSMaterial.com helps students to increase the band score from 6 to 7.5?

Sponsored [NOT PAID YET]
When it comes to finding a credible, reliable platform to prepare better, whether for IELTS Listening, Reading, Writing or Speaking, IELTSMaterial.com is one of the preferred sites to explore. It provides an extensive range of material, both free and paid, related to the IELTS examination. Thereby, with its guidance, the portal aims at helping students to increase their band score from 6 to 7.5 just within a matter of time.
What is IELTSMaterial?
IELTSMaterial is a go-to platform for thousands of IELTS aspirants across the world. By creating professional sessions and courses, they help students achieve the desired score. Moreover, at this platform, you can also find a gamut of resources that are proficient in further enhancing the score with ease. While there are standard courses, you can also ask for those that have been customized as per the demand.
How IELTSMaterial helps students to increase the band score from 6 to 7.5? 
With profound knowledge of this exam, there are a lot of ways that IELTSMaterial has adopted to sharpen students' ability to score higher than before.
Live One-On-One Classes
IELTSMaterial holds IELTS Online classes that are led by an experienced instructor. It comprises 24+ hours of personal training sessions, 5 full-length tests and timed sample tests to help improve the skills in all of the modules. Along with that, you also get 24+ hours of self-study guidance, tips and material that is helpful in preventing unwanted mistakes.
If you are not sure, enrolling in a trial class from the website would be recommended. In this class, you will have professionals conducting a mock test to evaluate your weaknesses and strengths so as to offer beneficial suggestions.
Video Courses
You get video courses that cover all of the four sections of the IELTS exam. These courses are available with more than 20 hours of video content, sample responses, and sample tests, along with strategies and tips to improve your skills. With these courses, you can easily get familiarized with different test patterns and formats.
Furthermore, if possible, you can also get individual courses that have been precisely designed for those students who wish to enhance the abilities in a specific module. With these courses, you can access lessons that teach how to structurize your answers with relevant, high-end vocabulary.
eBooks
eBooks that you will get by IELTSMaterial comprise a variety of previous years' and latest test questions. They also help you comprehend the test patterns and how different questions can be approached. To achieve a 7.5 band score, these eBooks enable you to figure out such sections that demand utmost attention.
Apart from that, in these eBooks, you can find sample responses to improve and compare your test performance. If you think you have a significant grip on every section but lag in vocabulary, you can find a specific eBook to improve your answer's quality. Further, you can also find individual and combo packs of every IELTS section.
Free Resources 
IELTSMaterial offers an extensive range of free resources, specifically meant for practising and preparing well for this test. On this platform, you can find an array of techniques, tips, guidance and lessons for both General and Academic Training tests. Along with that, you get plenty of practice tests, strategies and sample responses – without paying a single penny from your pocket.
With IELTSMaterial, you can also understand the structure and format as needed for four sections of the IELTS exam, such as IELTS Listening, Speaking, Writing, and Reading. On the website, you can also find a free newsletter subscription box that sends all the latest information right into your inbox.
Wrapping Up
In a brief, it can be explained that IELTSMaterial is one such online platform that is adept at boosting your IELTS score by offering you the best IELTS training resources. All of the available resources, including eBooks and courses have been crafted carefully to guide you throughout your preparation process. In reality, this platform has managed to combine all of the essential elements in the form of practice tests, live sessions, video lectures and written instructions. By availing their services, the chances of improving a band score of 6 to a band score of 7.5 will be nothing but an easier transformation.


Author: Simon Robert
EasyInfoBlog is a multi-author blog. We have experts and professionals in various fields who share their ideas and expert knowledge to help you with your daily information needs. Thanks for reading!