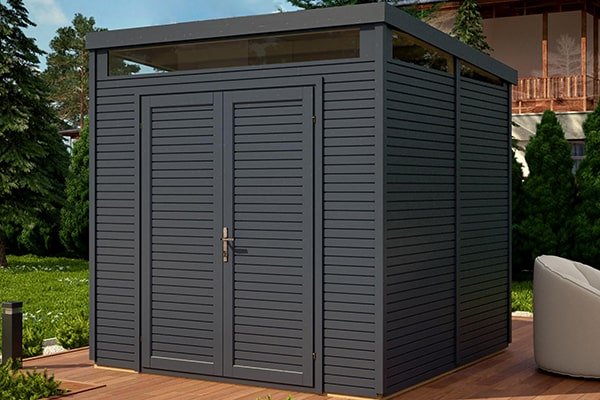 How to insulate a metal shed
When selecting shed insulation, the choices are similar to those decisions you make when selecting a house. The most crucial thing to put into consideration is how well each type will handle the moisture issue that often afflicts a metal shed. Excess condensation due to the temperature fluctuations of the metal is an example of the affliction faced by the metal shed. Sometimes the decision of using a product that protects all at once versus having to use two or more products, the balance of cost, ease of installation, and any long-term conservations as a result of lifespan.
Metal sheds are usually very popular when it comes to choice for storage. Still, the metal walls and roof could get extremely hot or cold. The above statement depends on the weather. As a result of the extreme change of weather, the inside temperature will be affected by this heat and cold.
This is the reason why many people want to insulate their metal shed, even though it is only used just for storage. Because I don't think anyone wants to find out that their yard chemicals have iced over the winter and now pour out in clumps from the bottle.
Fiberglass batts are the cheapest options when it comes to ways of insulating metal sheds, followed by blown cellulose. If you don't have studs in your shed, you'll need to add the cost of a stud system when figuring out the cost of the types of insulation.
Other options/types of metal shed insulation are solid foam board, closed-cell spray foam, and blown-in cellulose.
I will explain in this article how these different ways of metal shed insulation can be of help.
Fiberglass batts
It is considered to be the most common way to insulate a metal shed. It is fairly inexpensive and can be shopped in handy rolls. When you get the type with a facing, it is usually more expensive. When fiberglass gets wet, some of its insulating properties will be lost. Once fiberglass insulation gets damp, it remains damp.
It is essential to seal the seams completely with the proper tape. This will help prevent dampness from invading the fibers. It will cost more to get fiberglass with a facing that prevents moisture, but at the end of the day, it is worth it for your shed.
This insulation is really simple to install. Insulation over the ceiling is included. One of the major problems is that it's not feasible to install it unless you have studs. If you purchased a prefab shed, you'll probably have to put in wooden studs to use this insulation. If you are ordering your shed built, you should ask the builder to put in a stud system for insulation purposes.
Whoever will be installing it, needs to wear protective clothing such as long sleeves and use eye and breathing protection, as fibers often flake off and float around when the batts are handled. Another compatible alternative is mineral fiber. It arrives in batts and resists moisture, but if it does get wet it tends to shrink. It requires a stud system to be installed.
Solid foam board
This is another metal shed insulation option.
Pros:
It has a high thermal resistance rating and tends to be lasting.
It doesn't need a stud frame, and can effortlessly be cut to size to suit your space. Although you will need to make sure the seams are thoroughly taped.
You may like to use more than one layer. The foam board might be attached to some type of fasteners, but there are non-solvent spray adhesives obtainable that will work fine with the foam board. If you want two layers, installing the second layer with the adhesive won't be difficult.
Tip- Look out for the ratings on the foam board before buying, as some choices are neither fire- nor water-resistant. You may be required to install a fire-retardant vapor barrier over the foam board if yours does not have these properties.
Closed-cell spray foam
It is slightly more expensive than solid foam sheets but has a moisture barrier, which serves as an advantage and compensates for the extra cost. It can be applied effortlessly all over the interior of the shed.
It is useful when applied to the ceiling because it will take care of the condensation problem that may come up. Since you can't just use a paint sprayer to apply the foam, you can rent the proper type of sprayer.
How to use- Apply the foam appropriately in one-inch layers, allowing each layer to dry before applying the next. You can put the foam as coarse as you want where you want.
There is another type of closed-cell foam. This type comes in rolls with a metallic reflective foil covering on both sides. The reflective foil on the side keeps the temperature outside from affecting the internal temperature as much and conversely keeps the internal temperature more consistent, as it keeps the warmth or coolness inside. It is also praised for being moisture-resistant and acts as a vapor barrier.
Blown-in cellulose
This is a moderately affordable method of insulating a shed. It is formulated from old newsprint and different paper products that have been treated with chemicals to make it fire retardant. You must have interior walls to generate room for the insulation to be blown into.
Furthermore, you must have an internal covering or a moisture barrier on the ceiling to hold the insulation. Even though it does have a thermal resistance factor, or a higher R-value than fiberglass, the factor is less than for some other choices. Also, it's somewhat hard to apply and requires a vapor barrier installed behind it, as it is not moisture-resistant. It is treated to be fire-retardant, but it is not fireproof, nor is it resistant to mold or rodents.
Tool Needed for installing insulation in Metal Shed.
Just in case your shed didn't arrive with interior framing, you'll have to install a framework to install the fiberglass.
You can install a wooden stud framework, connecting it to the existing framework of your shed, but there is another alternative. Steel framing is obtainable and actually can cost less than wood. Metal studs don't warp or split, and they are resistant to fire, rot, insects, and vermin. They are weightless and easy to work with.
The tool you would need:
Straight-cut aviation metal snips
Any drill with a 2″ extension for the bit
Protective gloves
C-clamp locking pliers
440" crossorigin="anonymous">
Author: Simon Robert
EasyInfoBlog is a multi-author blog. We have experts and professionals in various fields who share their ideas and expert knowledge to help you with your daily information needs. Thanks for reading!