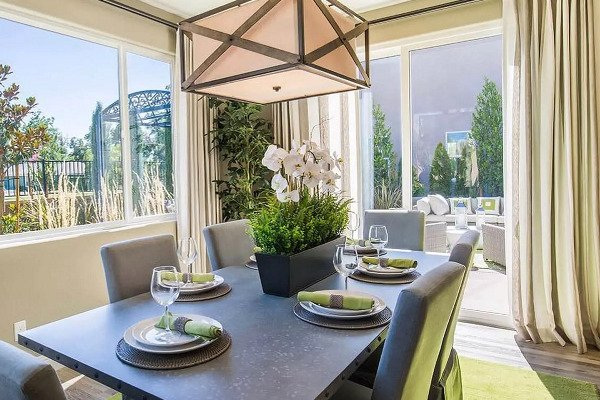 What are casement windows?
Modern plastic windows are famous not only for their good heat and sound insulation properties and durability, but also for the variety of shapes and types of structures. The most popular of them in terms of the number of sashes are 1, 2 and 3 casement windows.
There are also the following types of windows:
Balcony block, consisting of two wings. Most often, only the balcony door itself may open.
PVC constructions for balconies and loggias. The number of sashes for glazing is not limited and only corresponds to the length of the balcony and the wishes of the client.
Single-leaf windows casings
Single-leaf window casements are rightfully considered the most economical option. Most often, manufacturers make the sash openable, less often there is a blind single-sash window. This variety was almost always used in the construction of residential buildings during the previous century. Today this type of windows is used much less, mainly in private or country housing construction and in the construction of country houses, for installation in small areas, often non-residential. The reason for this is simple and obvious. However, to ensure a comfortable environment in a room of normal size, a single-leaf window will not be enough.
Double-leaf cased windows
This type of window structure implies the presence of two sashes. It is the most spread among customers, since in addition to the versatility of operational characteristics, it also has a relatively low cost. The presence of casement window air conditioner functions significantly increases its popularity. In most cases, one of the shutters of a double-leaf window is made openable, and the other is deaf. Although quite often, both sashes are made opening. The scope of application of double-leaf PVC window structures is extremely wide — they are used almost everywhere, from small private houses and cottages to multi-storey high-rise residential buildings and large public buildings.
Three-leaf cased models
It is obvious that this design has three sashes. In most cases, three-cased windows are used in the most spacious rooms, halls, living rooms, dining rooms and similar premises. They can be manufactured in a wide variety of options according to the number of opening leaves. Most often, the opening mechanism is installed on the two outer leaves. However,  in order to save money, some customers choose the option with one opening leaf located in the middle. Unsurprisingly, the most expensive option is when all three doors open. Such designs are also possible, but they are quite rare.
Which window casements are better?
The question of choice, to insert single, double or other varieties of cased windows, is faced by every newcomer or owner who is renovating a house thoroughly. What are the differences between these designs? Double-leaf translucent products have two halves — a blank frame and an aperture that can be opened. The left or right sash will open completely, for ventilation or micro ventilation. This is one of the most demanded glazing options. As for the single-sash design, the main difference is that it is possible to insert a blank frame or an opening frame. Mostly such structures are installed in private houses, in the country, on balcony blocks, and in old buildings.
Both single-leaf or double-leaf options are budgetary. Products serve for 50-70 years, require minimal maintenance and repair. Anyway, the choice remains, and you need to choose the right window casements. The main role is played by the area of ​​the room, the zone of ​​natural light, the area of ​​the finished opening, the height of the ceilings and climatic conditions. Professionals of Best Exteriors will help you make a final choice according to your wishes and opportunities. There is a possibility to get a free consultation for new customers, so you don't need to handle all these issues alone!
Author: Simon Robert
EasyInfoBlog is a multi-author blog. We have experts and professionals in various fields who share their ideas and expert knowledge to help you with your daily information needs. Thanks for reading!