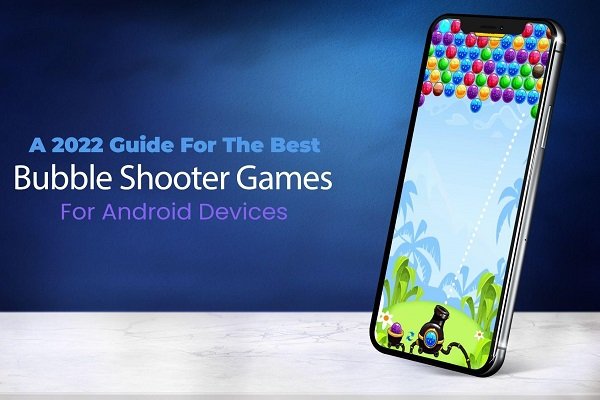 7 Best Bubble Shooter Games For Android Devices 2022
When you're looking for ways to pass the time, you cannot go wrong with playing Bubble Shooter on your mobile devices. The game is highly addictive and engaging. Popping the colorful bubbles can keep you engaged and take away your frustrations. After a few hours of popping and smashing those bubbles, you'll find yourself relaxed and rejuvenated.
The Bubble Shooter game is easy because all you have to do is aim and shoot. Ensure to shoot at the similarly colored bubbles to pop them and don't let the bubbles reach the bottom of the screen. Of course, each game comes with its set of challenges, so if you win one match, don't be confident of winning the next. That's how the game keeps gamers hooked for hours.
Want to join the bubble-popping fun? Here's a list of some popular Bubble Shooter games for Android devices that you must put on download right away. You can also play most of the games mentioned here on iOS devices.
7 Best Bubble Shooter Games For Android Devices 2022
1. Bubble Shooter on MPL
Bubble Shooter on MPL is a bubble pop game online where players need to pop groups of bubbles of the same color. The bubbles are arranged randomly across the screen, and each game lasts for about ninety seconds. The objective is to pop as many bubbles as possible before the timer runs out and prevent the bubbles from reaching the screen's bottom.
On MPL, the Bubble Shooter game is competitive and thrilling as players get to compete with genuine online players in real-time. You can even see your scores in real-time and accordingly adjust your game's strategy during an ongoing 1V1 battle. There are also tournaments on the platform where players can participate and win big cash rewards.
Bubble Shooter on MPL offers players loads of entertainment, along with an opportunity to earn side money.
2. Bubble Witch 2 Saga
The creator of Candy Crush comes with another smasher of a game in Bubble Witch 2 Saga. In this bubble shooting game, you have to burst bubbles and defeat bosses to discover enchanting worlds.
The game has hundreds of levels, which promise to keep you engaged for hours. The difficulty level goes higher with every level you cross, and the high-quality graphics keep both adults and kids hooked.
3. Bubble Blaze
200+ puzzles are featured in Bubble Blaze, and there are three gameplay modes. Players need to match three or more bubbles to score points. If you pop more than three bubbles, you can create bubble-busting streaks and get superpowers that will propel you ahead when you don't find any bubbles to pop. You can play solo games to keep boredom at bay or challenge your friends to show them your bubble-popping mastery.
4. Panda Pop
If you love animals and everything cute, Panda Pop is the game for you. It is a bubble shooting game created by Jam City Inc., and the game offers more than 2000 challenging levels. Players need to overcome all the obstacles to rescue baby pandas. The more pandas you rescue, the more scores you earn, and you can even win special rewards.
So, if you want to save baby pandas, start popping bubbles!
5. Jungle Marble Blast 2
Jungle Marble Blast 2 is a bubble shooter game similar to dungeon hunter, but the game cannot be called an action game. The objective is to clear all the marbles as they keep coming and don't let them reach the end of the rail. The game is popular because of its excellent graphics, exciting music, and visual effects like Hammer, FireBall, and Lightning.
The game has 620+ levels and thirty-one scenes that keep the game fresh and fun. So, start tapping the screen and ensure to match three or more marbles of the same color.
6. Bubble Shooter Pastry Pop Blast
Bubble Shooter Pastry Pop Blast offers all the fun and entertainment you need to make your 2022 worthwhile as you sit at home and pray for the pandemic to get over. The game can be played both online and offline. It comes with hard-to-beat levels and unique sounds.
In this game, when you shoot bubbles, you aim to make pastries free and make incredible bubble matching combos. The levels are endless, with cool animations and power-ups. The game keeps adding more stages and levels to keep gamers wanting more.
7. Aura Bubbles
Aura Bubbles is another fantastic bubble shooter game that is straightforward. You can quickly learn the rules and start shooting bubbles in space. The gameplay is slightly different because players get extra scores when the bubbles fall into the black hole on the screen. Moreover, there are thousands of exceptional levels to play and stay entertained for hours.
Aura Bubbles has some incredibly amazing graphics and tons of colorful bubbles that will keep you relaxed and calm. You will even get power-ups if you can manage to pop more bubbles with one shot.
Conclusion
Your 2022 already looks pretty sorted if you have these fantastic bubble shooting games in your download list. Regardless of what's happening outdoors, you can be assured of having the best time of your life indoors, sitting on your couch and shooting at colorful bubbles.
So, what are you still waiting for? Start exercising your fingers because you'll need them to win the shooting challenge with your friends or random online players.
Author: Simon Robert
EasyInfoBlog is a multi-author blog. We have experts and professionals in various fields who share their ideas and expert knowledge to help you with your daily information needs. Thanks for reading!