Comparison of DotBig and Forex Club – analysis of the main differences
Comparison of brokers in terms of trading and financial conditions allows us to determine the most suitable intermediary to trade Forex. We have compiled a brief comparative description of DotBig ltd and Forex Club companies that are gaining popularity in 2021. When comparing brokers, trading conditions, commission size, and account types were taken into account.
Fundamental differences between brokers' trading conditions
For both companies being compared, the difference between the best bid and ask prices starts at 0 pips. At the same time, investors should take into account that this indicator can increase during bank rollover. At night, during the release of news affecting asset prices.
DotBig trading conditions:
leverage: 1:400;
bonus program – yes;
account types: basic, standard, silver, gold, platinum;
trading platforms: MetaTrader 5, a web terminal, a mobile platform;
affiliate program – yes;
financial instruments: Forex, commodities, CFDs, ETFs, stocks, cryptocurrencies;
training – yes.
Forex Club trading conditions
Leverage: 1:500;
bonus program – yes;
account types: demo, Libertex, Rumus, MT4-Instant, MT4-Market, MT5-Instant, MT5-Market;
trading platforms: MetaTrader 4, MetaTrader 5, Rumus, Libertex, a mobile platform, Multiterminal;
affiliate program – yes;
financial instruments: Forex, commodities, CFDs, ETFs, stocks, cryptocurrencies;
training – yes.
The comparison showed that both companies offer universal conditions for trading on Forex, cryptocurrency, commodity, and stock markets. Affiliate and bonus programs allow traders to receive additional rewards. Brokers have developed training systems for both beginners and experienced investors. Traders can take courses, use tutorials, and analytical tools for automated trading.
Options for deposit and withdrawal methods
To compare online brokers, we analyzed the methods of depositing and withdrawing funds. Both companies provide the ability to use online services, e-wallets, cards of international payment systems, and bank transfers.
Comparison of Forex brokers by available online payment systems:
DotBig: WebMoney, Transferwise, PayPal, Qiwi, YooMoney.
Forex Club: Webmoney, Skrill, Neteller, Jeton.
When choosing a payment method, take into account the commission and transfer time of different payment systems. In addition to the standard deposit and withdrawal options, DotBig allows cryptocurrency transactions. At the same time, you can use the broker's crypto card without converting digital currencies into fiat ones.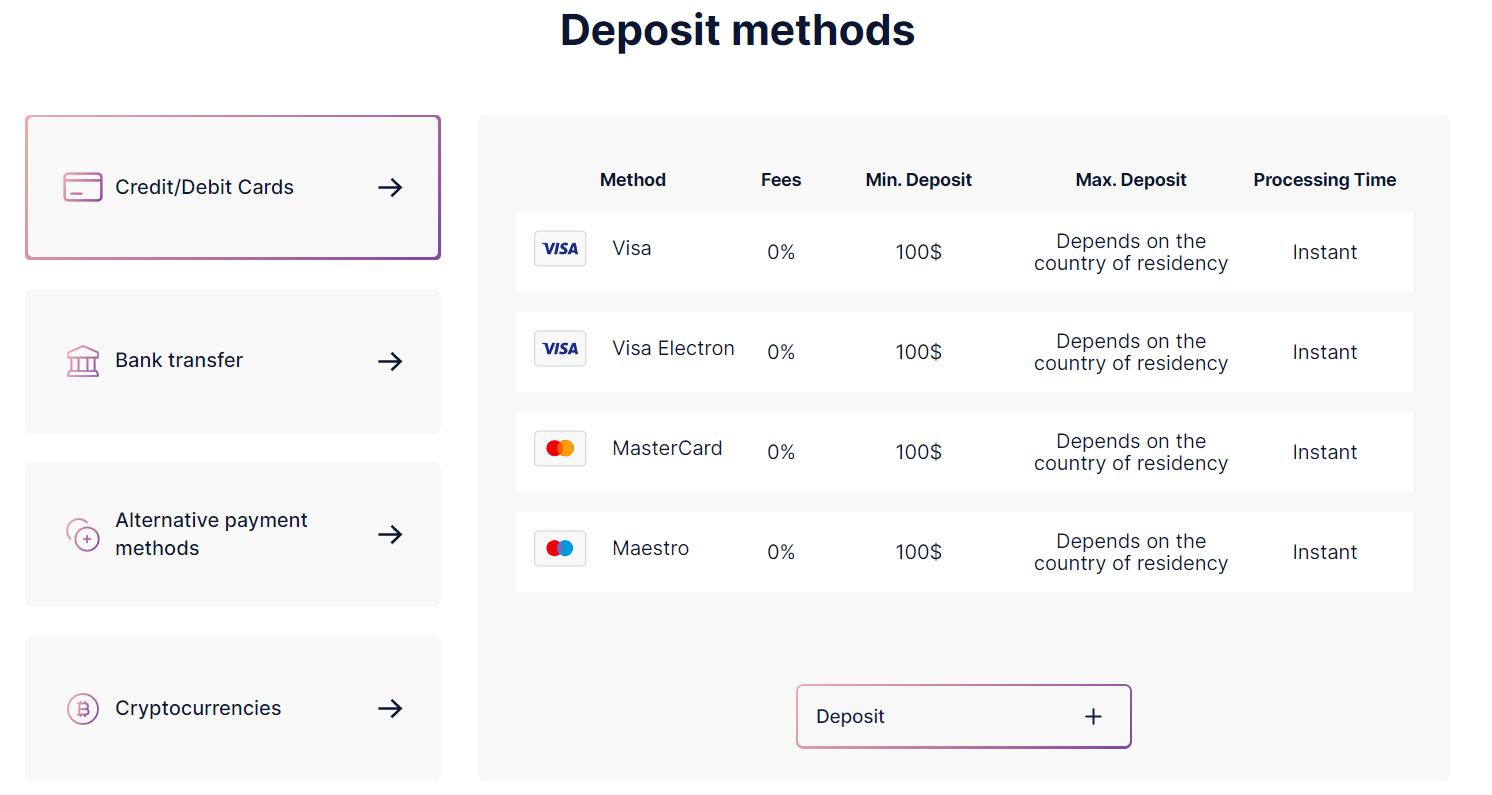 Brokers' commissions
When comparing broker fees, no hidden payments were found. Companies charge interest on withdrawals. The Forex Club commission rate ranges from 0.8% to 2.5%. Depending on the account type, there is also a fee for replenishment of the deposit in the range of $0-30.
DotBig withdrawal commission reaches 3.5%, which should be taken into account when choosing a payment system. The transaction cost for a bank transfer will be 35 euros. The company has no commission for replenishment of the deposit. If a trader does not trade in Forex for more than one month with an open account, the broker will charge a fee for the inactive account. This is indicated in the user agreement.
Available trading accounts
When comparing brokers' rates, you need to take into account your initial capital, as well as the expected trading volume. So, DotBig ltd offers opening a basic account with a minimum deposit of $ 100 and the opportunity to learn how to trade in the Forex market. For active investors, the terms of the gold and platinum tariffs are well-suited. With cashback accrual, several free withdrawals per month, and the ability to work with a personal analyst.
Forex Club also offers beginning investors several accounts (Libertex, MT4-Instant, MT5-Instant) that can be used for online trading on different platforms. Tariffs MT4-Market and MT5-Market are good for advanced users of trading terminals.
Customer support
The comparison of Forex brokers showed that both companies have 24/7 support. However, Forex Club support does not work on weekends. DotBig customers can contact technical support 7 days a week. Support managers provide professional advice on technical and financial issues, as well as help aspiring investors master online trading.
Taking stock
If you are just getting started with Forex trading, you can opt for DotBig for their beginner training courses. This company is also more suitable for crypto traders as it offers the ability to deposit and withdraw funds in digital currencies, which are popular in 2021г. When comparing brokers, it was found that Forex Club provides more options for trading terminals. The list of available assets of the companies in question is practically the same.
Author: Simon Robert
EasyInfoBlog is a multi-author blog. We have experts and professionals in various fields who share their ideas and expert knowledge to help you with your daily information needs. Thanks for reading!