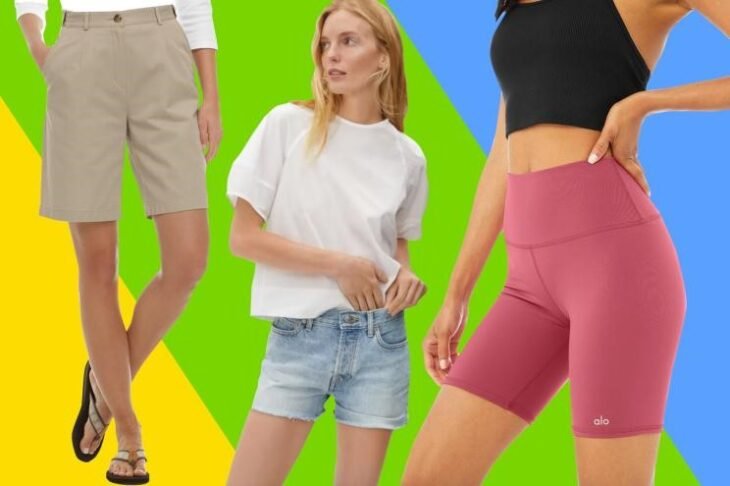 A Practical Guide To Finding The Perfect Women's Shorts For Every Occasion
Shorts are perfect for hot summer days since they keep you cool and comfy and make you look good. They are also available in many styles and colors, making them so easy to dress up or down. Some people think that shorts are only appropriate for specific activities and occasions, but they are more versatile than you think. If you need some pointers on finding the best shorts for lounging, working, hanging out, and more, here is a practical guide to finding the perfect women's shorts for every occasion. 
For Relaxing at Home: Cute and Comfy Does It
When you want to stay home, you need a pair of comfortable shorts that look good enough for entertaining friends, doing chores in your front yard, or a quick snack run to the convenience store. LA-based brand Sanctuary said that when choosing women's shorts for lounging, look for ones made of a soft material that holds their shape. You should also pick a little roomy, but they should be more structured than sleep shorts if you want to wear them outside. Pick relaxed-fit pull-on shorts with an elasticated waist or a drawstring closure, such as a pair of sweat shorts. 
Cotton jersey shorts are also perfect for lazy days since they are soft enough for relaxing on the couch, but they hold their shape, so you can wear them for running errands. Pair these shorts with a plain cotton shirt or, better yet, a thin pullover sweater or a hoodie in a matching shade to create a cute loungewear set. 
For Work: Perfectly Tailored for the Office
If your workplace has a smart casual or relaxed dress code, there is no reason why you can not wear shorts to work. However, you need to find ones that will make you look professional and put together. According to Sanctuary, women's shorts that are appropriate for the office are sharply tailored, made of luxe materials, and have a crisp, clean look. 
Knee length or shorts that hit just above the knee are your best bet to avoid getting the stink eye from your HR manager. You should also avoid overly tight shorts since these can be uncomfortable, as well as baggy shorts since these can look like pajamas, which are undoubtedly different from the look you are going for. 
Choose crepe or wool crepe shorts or shorts made from sturdy cotton in neutral colors. Avoid printed shorts since they are more suitable for playing or running errands. Shorts with a ribbon belt or gold hardware can add a touch of luxe to a simple outfit. 
Pair your shorts with a long sleeve blouse to create balance, or wear a blazer in the same shade and material as your shorts. Add some accessories, closed shoes with kitten heels, and a structured bag to add some polish to your outfit.
For Fun: Sexy, Cute, and Classy
You can wear shorts for a fun day or a night out with your friends. To narrow it down, consider the vibe you want to present when wearing shorts – do you want to look sexy, cute, or classy? Pick one, then choose shorts that go with that vibe.
For instance, if you want to look sexy for drinks at the new resto-bar in your area, you will want to wear lace shorts with a slinky top and a motorcycle jacket. Make sure the lining of the shorts avoids a fashion emergency. Meanwhile, if you want to look cute for a movie date, a pair of classic denim shorts is all you need. Wear it with a crop top and an oversized blazer or jacket.
Need a classy outfit for a casual event or a party? Consider wearing relaxed-fit leather shorts with a black knitted sweater, black ankle boots, and a quilted sling bag with a chain strap. It is the perfect outfit for anything from a fashion show to cocktails at a swanky bar. 
For the Great Outdoors: Rugged and Weather-proof
Most people think all types of shorts suit camping, hiking, or beach holidays. However, this is not the case since you need a specific kind of shorts for every outdoor activity. For example, for hiking or camping, you need shorts made of sturdy material with lots of pockets for holding your belongings, such as cargo shorts. Pick cargo shorts in a dark or neutral color to hide stains and dirt, and do not choose ones with ties, loops, or other busy details since these can get caught on branches or shrubs. 
Swim shorts are your best bet for the beach since they should look good in and out of the water. They also tend to dry quickly due to their composition of nylon or polyester, so you would only sit around for a short time in wet clothing. Pick colorful ones to help you stand out, and pair them with a bikini or tank top. 
There is a perfect pair of shorts for every occasion. Consider these tips to find the best shorts to look good and feel fabulous no matter where you are!
Author: Simon Robert
EasyInfoBlog is a multi-author blog. We have experts and professionals in various fields who share their ideas and expert knowledge to help you with your daily information needs. Thanks for reading!