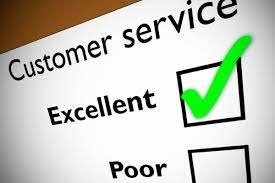 Customer Reviews: 6 Strategies for Getting Good Reviews
Online reviews give valuable social evidence that help prospective customers' buying decisions, but that's just the tip of the iceberg. Since many customers rely on online reviews more than family and friends, you can use this to help attract new customers and maintain good relationships with current ones.
The big question is: How can you raise more reviews for your company? In this article, we offer 6+ killer strategies to help you take responsibility for your online presence.
Ask Every Customer for their Review
Over the years, studies have proven that the more customers you ask for reviews, the more reviews your business will get. Don't make a mistake of leaving opportunities on the table by not asking for reviews. Try reaching out to specific, long-term customers to generate authentic, heartfelt reviews. Authenticity matters in positive reviews.
Another method for asking for reviews is to automate the review outreach process by setting up automated email campaigns that go out to all the customers who buy goods or services from your company. Finally, make sure that you're following all the guidelines set out by various authorities in your space. You don't want to have your hard-won reviews removed due to not abiding by the rules.
By increasing your customer outreach, you'll increase your reviews. Keep going, because it takes time to gather reviews, but once you have them, you have them forever.
Connect to Your VIPs
Some customers and reviewers leave more reviews than other customers. Try reaching out and building relationships to people who will buy and review multiple products or services These customers can become your evangelists and are highly valuable to develop a relationship with because they help you build your brand. Bearing this in mind, begin your customer outreach efforts by focusing first on the customers who repeatedly purchase your products and consistently leave reviews for your company's and others.
This will help you to super charge your review gathering.
Provide Great Customer Service or End Up Like State Farm
It's important to provide great customer service. Everyone knows this. However, it takes effort to identify and put out the fires that will most likely end in negative reviews. State Farm complaints page on HissingKitty.com provides a case in point on how bad customer service leads to bad reviews.
In the above link, you can see horror story after horror story of State Farms providing negative customer service that motivates the customer to leave a negative review.
If you can put out the fires before someone leaves the customer service conversation, you're less likely to get a bad review.
Individualize Review Requests
It's easy to send out an inquiry repeatedly asking for reviews. However, your sponsors will be more willing to leave a review when they're requested by someone honest and not a mechanized system. Individualizing your review requests will touch your consumers, reduce uncertainty, and boost your business' review rates.
With technology, you can easily retrieve relevant data concerning the customer and add it to a review request email. This simple method is used to individualize your messages without taking too much time.
Include a Review Link on Your Email Signature
If you're sending order confirmations or emailing back and forth to your customers, make sure to add a review link in your email signature. This way, you'll make it easy to offer customers another way to leave a review of your company. This passive approach might lead to fewer reviews than the other suggestions, but every review counts towards building your brand.
Ask for Your Customer Feedback Orally
Yes people do still use the phone, call customers, and request reviews. In fact, this is the best way for high touch, sales-oriented businesses. Sometimes the best way to assure you get reviews is to get your hands dirty and cash in on a business relationship. Teach your employees how to ask customers for reviews immediately after they've purchase at physical stores, and teach your sales staff to reach out and ask customers for reviews when they've had a positive experience. Try offering incentives to employees who customers' mention in their review. When your employees have been properly coached, every verbal review request will be individualized and customers will turn out in droves to provide their positive feedback on your product or service.
Conclusion
Online reviews have a significant impact on customers when they're searching for high quality products and services. In this article, we've emphasized that reviews take work. You shouldn't sit back and passively wait for reviews to come in. You should take responsibility for managing your public image.
Author: Simon Robert
EasyInfoBlog is a multi-author blog. We have experts and professionals in various fields who share their ideas and expert knowledge to help you with your daily information needs. Thanks for reading!